Turbine Flow Meter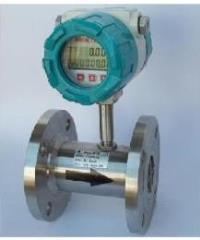 FOREVER Electromagnetic Flow Meters, takes care of flow measurement and monitoring needs with maximum efficiency. The flow meter comprises of a magnetic flow tube and an electronic flow converter.
Applications :
Water Treatment
Pump Testing
Paper & Pulp
Effluent Treatment Plants
Waste Water & Sewerage
Food & Dairy Processing
Chemical Process Plants
Features :
Rate Indicator/Totalizer Functions
Batcher Function
Latest Pulsed DC Excitation
Linear & Accurate
Separate version
Computerized data logging
Easy Maintenance
Specially designed flow coils, generate a magnetic field in the flow tube. As the conductive fluid moves in this field voltage proportional to the velocity of fluid is generated in the electrodes. This voltage is received by the flow converter and digital signal processing is done before the flow value is displayed in the illuminated alphanumeric LCD. The flow meter uses advanced digital technology with intelligent software systems combined with precision engineering ensuring accurate and reliable flow measurement.
We are one of the leading Manufacturer and Supplier of Electro Magnetic Flowmeters and we supply our products in below mentioned countries and states,
Andhra Pradesh, Arunachal Pradesh, Assam, Bihar, Chhattisgarh, Goa, Gujarat, Haryana, Himachal Pradesh, Jammu and Kashmir, Jharkhand, Karnataka, Kerala, Madhya Pradesh, Maharashtra, Nagaland, Orissa, Punjab, Rajasthan, Sikkim, Tamil Nadu, Uttar Pradesh, Uttarakhand, West Bengal.