ETP Flow Meter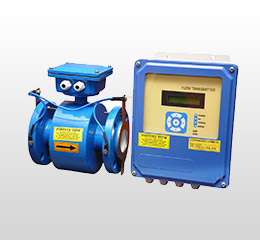 ETP FlowmeterWe are offering our clients, accurately designed ETP Flowmeter, which is a specially designed optical system. A LED transmitter is fitted that places a spot of red light on the shaft and a reflective marker is also fitted that reflects the beam back to the optical system, which will focus the reflected image on the detector. The reflection is further converted to pulses. This type of arrangement is ideal for continuous rpm monitoring.
Specifications :
The rpm meter for the sensor accepts both non contact type sensor and proximity sensor
Other sensor interface arrangement can be supplied on request
The front panel has a 16 character back lit dot matrix display and cursor keyboard
The meter has an optional RS232 or RS485 ports for interface with PC
Using the 485 communication system several of these devices can be put in network to monitor the RPM
We are one of the leading Manufacturer and Supplier of ETP Flowmeters and we supply our products in below mentioned countries and states,
Andhra Pradesh, Arunachal Pradesh, Assam, Bihar, Chhattisgarh, Goa, Gujarat, Haryana, Himachal Pradesh, Jammu and Kashmir, Jharkhand, Karnataka, Kerala, Madhya Pradesh, Maharashtra, Nagaland, Orissa, Punjab, Rajasthan, Sikkim, Tamil Nadu, Uttar Pradesh, Uttarakhand, West Bengal.